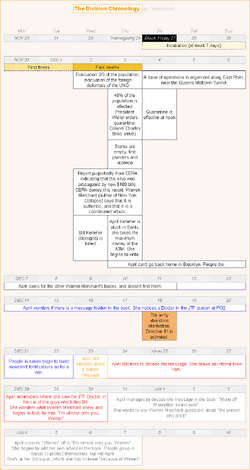 The following events are the chronological story of The Division, which takes place in 2015-16.
November 27
Gordon Amherst releases the Dollar Flu in Abel's Shopping center on Black Friday in New York.
November 24th - December 1st
After the Black Friday infections, the first symptoms began to manifest, specifically fevers.
By December 1st, public schools have closed and students are kept home.
December 2nd - December 3rd
In the first 48 hours, Manhattan descended into chaos. 2/3rds of the population was evacuated, and diplomats and government leaders retreated from the city. A report rumored to be from CERA was released suggesting that the viral infection was propagated using US money during Black Friday. CERA itself denies this. Warren Merchant verifies that it is indeed a CERA report.
On December 2nd, Bill Kelleher is murdered. On December 3rd, his wife, April Kelleher withdraws the maximum amount possible from her ATM, and goes into hiding while writing a survival guide that will be widely used by future Division Agents. By the end of December 2nd, 48% of the population is affected. President Weller orders Colonel Charles Bliss into Manhattan to regain control.
Violence takes hold of Manhattan.
The Joint Task Force is created by December 3rd. Power is spotty and frequently out, Television signals are almost non-existent, internet down in New York.
December 4th - December 11th
December 4th - Quarantine is officially implemented. The military creates a Base of Operations along East River near the Queens Midtown Tunnel.
December 5th - The first cases of Dollar Flu arrive at Bellevue Hospital.
December 6th - Some parties recognize Dollar Flu as smallpox, while CERA formalizes their Base of Operations at the Post Office while turning Hudson Yards into an operating base. Cell service begins to drop.
December 7th - 42nd Infantry Division of the Army National Guard mobilized to New York.
December 8th - DCD investigates possibility that Dollar Flu is smallpox, and begins distributing smallpox vaccines. NASDAQ down 300. Bridges are closed, and sports games are cancelled.
December 11th - Construction of the Dark Zone begins.
Unknown - Up to 10,000 dead.
December 12th - December 19th
December 12th - First reports of Cleaners verified. Dark Zone construction continues while smugglers bring food, water, and supplies via water. Blood and Oxygen depleted in most hospitals.
December 13th - Morgues reporting full capacity.
December 14th - Hospitals turning people away.
December 15th - People resort to eating Pigeons to survive in some locations.
December 17th - JTF in full force, Dark Zone is created. Rioters are on active hunt. Hospitals shut down, some believe to move the infected to the Dark Zone.
December 18th - The military officially retreats from Manhattan, leaving hundreds of police, firefighters, and government officials behind along with thousands of civilians. Directive 51 is enacted.
December 20th - December 27th
December 23rd - Dark Zone given name 'Dark Zone'. CERA pulls out from New York.
December 24th - Rikers escape Rikers island, begin hunting. April Kelleher saved from Rikers by Doug Sutton, last of Noble Squad. Airstrikes devastate marinas.
December 26th - JTF pushed out of Hudson Yards, Rikers control Hell's Kitchen, Dark zone fully walled off.
Unknown - Up to 100,000 dead.
December 28th - 'Present'
December 31st - Approximately 300,000 Dead, President dead.
January 6th - Second Wave arrives in New York.