Weapons
Below is an organized list of all Weapons in The Division. To learn more about a weapon simply click on the weapon's name to view its full page.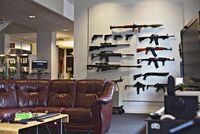 Weapons in The Division can be customized by the player to fit their specific playstyles. Non-lethal weapons will be available such as smoke to block line of sight. Attachments range from suppressors to aid players who prefer a stealthy approach, to incendiary ammo for the players who prefer a more head-on approach.
Types
There are seven classifications of weapons in The Division. These classifications determine the fire speed, damage, spread, and range, and are typical of each classification's real-life counterpoint.
Weapon List
Possibly Excluded
The following weapons were largely featured in pre-beta release materials, and may not be in the current beta build. Please note that these might also be simple name variations of weapons, as name schemes could change from pre-build to beta to release.
Pistols
Shotguns
Submachine Guns
Assault Rifles
Designated Marksman Rifle
Light Machine Gun